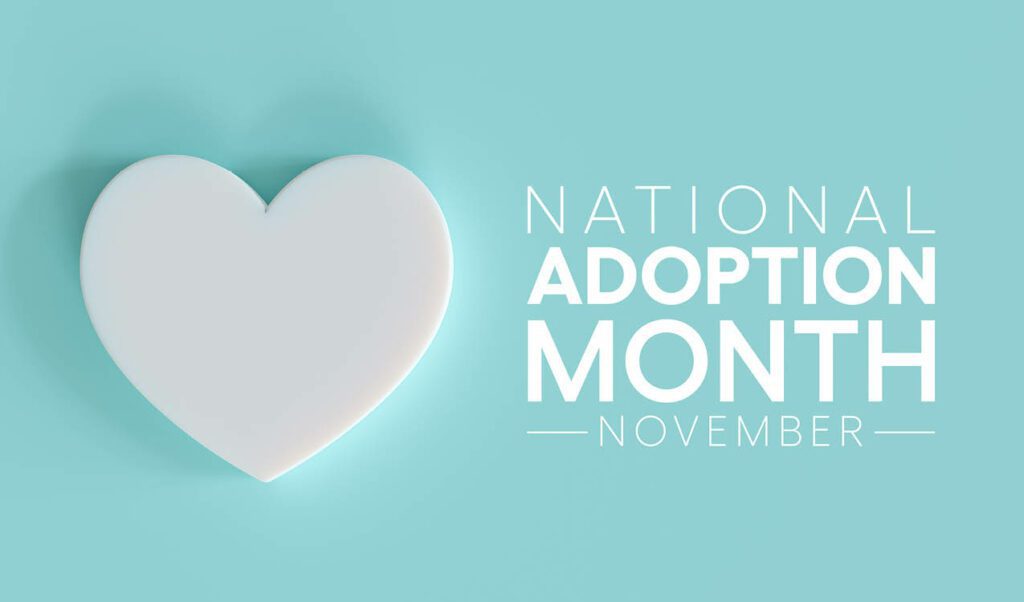 Adoption can be a difficult, yet beautiful journey. But it's often misunderstood. Many women experiencing unexpected pregnancies are not informed of their rights and the resources available to them through the adoption process.
In honor of National Adoption Month in November, we're shedding some light on this brave and loving decision. Keep reading to learn more about adoption in Nebraska!
What are the Different Types of Adoption?
When making an adoption plan, you can choose an open, semi-open, or closed adoption.
Open adoption is exactly what it sounds like–open! It allows the birth mother to create a personalized plan for staying connected with the child and adoptive family after the adoption. This can range from email communication to in-person visits, depending on everyone's comfort level[1]. Some birth mothers and adoptive families celebrate special occasions together, such as birthdays and holidays.
Semi-open adoption is a form of open adoption in which most or all communication between the birth mother and adoptive family is done through the adoption agency. The birth mother will not remain actively involved in the child's life after the adoption but can still receive pictures and updates from the adoptive family, through the agency. The amount and frequency of interaction can increase or decrease over time, depending on how both parties feel about the relationship.
Closed adoption does not allow for any communication between the birth parent(s) and the adoptive family. No identifying information, such as names or phone numbers, is shared between the birth parents and the adoptive family[1]. However, the adoptive family is provided with the birth mother's medical history so they can get the proper care for the child if medical problems arise.
There is no "best" or "right" type of adoption. It all depends on what you believe will be ideal for your specific situation. It's important to note that your feelings can change as time goes on. In the beginning, you may want a semi-open adoption, but later decide that you want to play a larger role in your child's life and request to reconsider the terms of the adoption.
Can I Choose the Adoptive Parents?
Yes! You can personally select the adoptive family based on a combination of factors, such as where they live, race, religion and even personality traits! Adoption agencies usually provide profiles of potential families that you can search through to find the perfect match.
Once selected, the potential adoptive family must complete a home study to assess their:
• Daily life and routine
• Neighborhood (safety rate and proximity to community resources)
• Ability to provide for the child financially
• Parenting skills
• Readiness for adoption
• Support system (who they reach out to in times of difficulty)
The home study is a thorough process than can last up to six months. The purpose is to ensure your child is placed in loving and capable hands.
Do Birth Mothers Receive Financial Assistance?
The adoptive family may agree to cover some of the birth mother's expenses through the adoption process. Some of the most common examples include[2]:
• Pregnancy-related medical bills
• Living expenses during pregnancy
• Counseling fees
• Attorney and legal fees
• Travel costs, food, and lodging when necessary for court appearances or accessing services
• Currently, Nebraska law doesn't state specifics on the type or amount of expenses that adoptive families are required to cover[3]. An adoption professional can help the adoptive family determine what financial assistance they are able to provide to you!
Can I Change My Mind About Adoption?
You can change your mind about the adoption at any point during your pregnancy. Nebraska law states that, after the child is born, you have 48 hours[3] to change your mind before giving your legally binding consent.
It's important to be honest about your feelings and be informed of your rights as the birth mother. If you're unsure about anything, speak to your caseworker. They advocate for you and help to answer questions.
Remember: If you have the desire to raise your child, you have the right to.
What if I Have Conflicted Feelings After the Adoption? Where Can I Find Support?
Adoption is a selfless, but sometimes difficult decision. You may experience conflicting feelings throughout your adoption journey, and even after the adoption is finalized–which is totally normal. Adoption support groups and professional counselors offer a compassionate environment to help you process your experience. There are countless options available, both in-person and online. You don't have to unpack your emotions on your own.
If you need someone to talk to at any point in your adoption journey, EPS is here for you. We offer confidential professional counseling so you can get the support you need, every step of the way! Call or text!

Where Can I Go to Place My Child for Adoption in Nebraska?
If you're experiencing an unexpected or under-supported pregnancy and considering adoption (or simply want to learn more), speak to a counselor at EPS! We are here to answer your questions so you can decide if adoption is the right choice for you. No pressure, no judgment, just compassionate and confidential care.
Call or text for assistance, or request your free appointment online today!
.
.
.
SOURCES
1. Could Open Adoption be the Best Choice for You and Your Baby? Child Welfare Information Gateway. (n.d.). Retrieved from https://www.childwelfare.gov/pubPDFs/openadoption.pdf
2. Regulation of Private Domestic Adoption Expenses. Child Welfare Information Gateway. (n.d.). Retrieved from https://www.childwelfare.gov/pubPDFs/expenses.pdf
3. How to Adopt in Nebraska. Considering Adoption. (2021, April 21). Retrieved from https://consideringadoption.com/adoptions-by-state/how-to-adopt-in-nebraska/